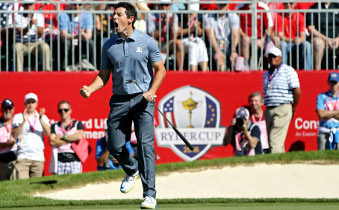 Event Details
When: 26th Sept – 1st Oct 2018
Where: Le Golf National, Paris
Sports: Golf
Few sporting events can hold a candle to the Ryder Cup – and the last two or three have been as good as any.
Graeme McDowell helped Europe regain the trophy in dramatic circumstances in 2010 before an extraordinary comeback saw José María Olazábal's team come from 10-6 down to retain it.
Two years on from the Miracle of Medinah and Europe won for the third time on the trot at Gleneagles – with Donaldson, Garcia, Rose and McIlroy to the fore.
However Team USA held strong and came back fighting at Hazeltine with an impressive 17 – 11 home win, making it their first since 2008!
If you travel with BAC Sport, we can offer 20 years' experience, ATOL protection, packages that are tailor made to suit you and a personal service that you simply won't get elsewhere, including:
Official Ryder Cup Travel Provider

Official Ryder Cup daily entrance ticket
Exclusive hospitality options
Flights from London or regional airports in economy with club upgrades available
A personal travel experience and a reputation spanning 20 years – all at unbeatable value
Although the Ryder Cup is not on sale yet, please register your details on the form below and we will send you information as soon as it is ready
Contact Us for More Details
Popular Events
24th Mar – 26th Nov 2017
Worldwide
24th Mar – 26th Nov 2017
Worldwide